artop – Ausbildung zum Usability-Consultant


Es ist nicht möglich eine 2 1/2 Stunden umfassende UX-Jam-Session hier adäquat abzubilden. Aber ein paar Referenzen und Hinweise soll es dennoch geben:
Adobe / Sun / Oracle
Adobe GoLive Point & Shoot – ein Interaktionselement zum Erstellen von Hyperlinks
Usability im Unternehmen (Hanser 2003) – über das optimale (numerische) Verhältnis zwischen Interaktionsdesign/Usability und Entwicklung
Concept Workshops im Oracle VDI Team. Danach sind dann Wireframes mein zentrales Design-Medium.
Sage
The Sage System, der einzige Computer mit einem eingebauten Aschenbecher. Im Computer History Musem findet sich auf einem Kabel im Inneren der Text: I am so bored.
Paradox of Choice
Paradox of Choice. Why More Is Less by Barry Schwartz. Die korrekte Anzahl von Produktvarianten ist 3. So können sich Kunden für das mittlere Modell entscheiden und dabei Geld gegenüber der teueren Variante sparen und mehr Qualität als bei der billigen Variante bekommen.
Buchempfehlungen

  101 Things I Learned in Architecture School by Matthew Frederick. Es ist sehr anregend, das kleine 1x1 der Architektur mit Interface-Design und Information-Architektur zu vergleichen. – Weitere Bücher dieser Reihe: Look inside at Hachette Books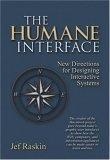 The Humane Interface by Jef Raskin. Grundsätzliches zur Gestaltung von jeder Art von User-Interface vom "Vater des Macintosh"; insb: "Any system shall not harm your content or, through inaction, allow your content to come to harm."

  Wo der Buchstabe das Wort führt. Ansichten über Schrift und Typographie von Kurt Weidemann. Ein geniales, aber nicht ganz billiges Buch, über Typographie und Gestaltung.
Gute Typographie bemerkt man so wenig wie gute Luft zum Atmen. Schlechte merkt man erst, wenn es einem stinkt. - Kurt Weidemann, [Wo der Buchstabe das Wort führt, S. 360]
Ein Blick auf mein Bücherregal.
Konferenzen & Events
Raum Schiff Erde – Hamburger Unkonferenz für Interaktionsdesign, Internet, Digitales
Interaction 12 – am 1.- 4.2.2012 in Dubin
Weitere Ankündigungen gibt es im User Experience Forum auf Xing